We've been having problems with our van....now please don't ask me to really explain....after all, I'm just a mom. All I do is drive it. But it's having trouble going into gear when you first start it up. Once you get to driving, you're ok. Anyways......all that to say, Clay didn't want me driving it until he could really check it out plus he didn't want to risk NOT having a vehicle Saturday morning when Jon had to go take his SAT. So.......Friday morning, BEFORE heading to town on my usual grocery run, I had to run out here to the DMV & get tags for our old blue Taurus. Come home & get Jon to put them on for me while I called the insurance people & got them to add the Taurus back onto our insurance. FINALLY, I'm headed to town to get groceries, take Ashley to the camera shop, etc, etc.
**********
5:30am Saturday morning found Jon & I up & getting ready to head to Lynchburg where he would take his SAT test at Heritage High School.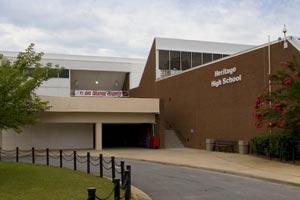 Thank you so much to everyone who prayed! We are SO thankful to have that behind us for now.....he will take it again in the spring & feels that he can definitely do better next time around now that he knows what it's like. We are officially on break now until the first of the year. There's just too much excitement in the air & too many Christmas crafty projects to work on & parties to attend to even think about concentrating on the books. Not to mention that Ashley will be done & coming home next week. Gotta love this time of year!
***************
Yesterday, Ella & the kids had planned to come down & go to the Christmas parade with us. We hadn't done it in years....not since the kids were little & we just thought it would be fun. Well, don't ya know that Clay's little Geo started acting up on him coming home from work Sat. evening. He thinks that it's either the battery or altenator......his lights were going dim & he could hardly see. So.....he had to drive the blue Taurus.....our only working vehicle at the moment & we were home with no transportation. Thank goodness Ella & the kids were good sports & not really upset about not going to the parade. Everyone was just as happy to hang out & gab. Ella picked Jon's brain about the SAT & what books he suggested for Dillon to use. We fixed chili & mexican cornbread for supper & ate way too many cookies & brownies in between. Watched the last part of Elf....& did lots of laughing!
Alli took about 40 pictures of her & Cori with my camera.....just hanging out on her bed being silly. Isn't being a teen-ager awesome?!
While upstairs, they were researching Taylor Swift tickets. Checking out the tour schedule for 2013 & ticket prices, etc. Ella whispered that they were doing 'school' & didn't even know it. ;-) We decided that we could list that under economic research or something like that.
**************
Today has been just a totally relaxing, sleeping in kind of day.....after our busy weekend. The boys went hunting this afternoon. Alli piddled around & I worked on my art journal some, cut my photos for my Christmas cards, made a BD card for a friend & did a little crocheting.
Bless Clay's heart when he said we could do Vito's pizza for supper. That was a super nice Monday night treat. Love my Clay-Baby!

************
So, that's my last few days 'in a Nutshell'. Kind of a big nutshell, but anyway....it sounded good.