I was all set this morning to head upstairs & grab a quick shower as soon as the boys came back from hunting, but Jon had other ideas. He said they were awfully hungry & in need of 'second breakfasts'. He said that sweet meat from his deer sure would be good. What's a mama to do? I pulled out the frying pan & started tossing cubed up sweet meat in. Then he mentioned that some scrambled eggs would go really well with the meat. ;-)
A true country breakfast! And that kiss on the cheek that I got afterwards, made it all worthwhile!
Jon, Alli & Rocky watching a Taylor Swift video. Is that dog spoiled or what?
A little scrappy 'PLAY' time this afternoon. Our challenges this month at
Cookin' Up Creations
are to do with Food & so today we were challenged to BLEND together two colors of acrylic paint on some chipboard letters. I'm letting mine dry for now & will finish putting things together tomorrow.
These two cards that I made were inspired by the one shown below....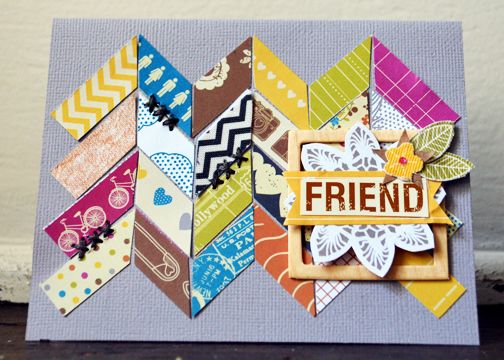 Yesterday's challenge was brought to us by Jo, & is inspired by a recipe and a new technique!
I have noticed a lot of blocking with shapes lately in scrapbooking...taking a shape and repeating it over and over again, usually using scraps of paper to make a new design for a layout.
When I saw this post, the shape of the pieces reminded my of a recipe my mom used to make...Toffee Diamonds...
Thanks for sharing such a fun challenge, Jo!