How many of you guys used to watch CHIPS? C'mon.....admit it.....you know you did!
Interesting little tidbit......Erik Estrada's mother-in-law is related to us somehow...somewhere down the line. Related enough that she has come here to our family reunion for years now.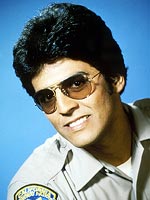 Anyway.....as the girls & I were standing in Starbucks today waiting for our drinks, I just happened to notice this up on the wall. Ashley said I had commented on it before, but you know....as Wen said today.....after 40, sometimes ya just forget.